Filter by Category
Cooking
Kids in the Kitchen
with Kimberly Nason

Nov 7, 2019 at 5:30 pm
In this new parent and child class we will prepare a full meal of an appetizer, entree, and dessert. This is a great opportunity for kids to feel more comfortable and confident in the kitchen. Be prepared to have fun, create, and eat some yummy food!
Material Fee: $25 per adult and child, payable to instructor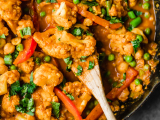 Seasonal Plant Based Cooking
with Alicia Randolph-Lucchesi

Oct 10, 2019 at 6 pm
Seasonal Plant-Based Cooking Demo Create and take home seasonal, 100% plant-based recipes: Garden Rotini - pasta, cashew cheese, vegetables, gluten-free options will be offered, Chia puddings - your new breakfast or dessert bowl, full of Omega-3! We'll have a "question & answer" session and discuss other options for getting more Omega-3 into your diet! Recipes & Alicia's seasonal eating guide will be included. Please bring an apron & container forleftovers. Alicia has offered plant-powered meals since 2007. She has a Masters in Holistic Wellness and has been teaching healing and nutrition to all ages since 2013.