Filter by Category
Cooking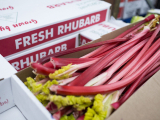 Registration Unavailable
Preserving Rhubarb Workshop
with Laurie Bowen

May 22, 2019 at 5:30 pm

, runs for 1 week
In this one-night, hands-on workshop, you'll learn the basic steps for canning and freezing rhubarb. Participants will recive a food preservation packet and will learn recommended methods for preserving foods.
Everyone will go home with a jar of what we make.
The $26.00 course fee includes the cost of all materials.